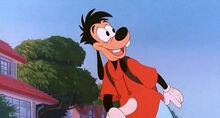 Max Goof is friends to Bobby, PJ, Greg Enderson, Sarah Enderson, Little Nicci Enderson and lots more friends. Max currently attends school at New York State in Albany as a Senior and plans to go into engineering.
Relationship with Roxanne
Edit
Max started dating Roxanne in the summer of 2008 and have been in a relationship for over 7 years now. Max and Roxanne recently got married on March 28, 2015 and they currently reside in North Albany, NY.
Early Life (1993-2003)
Edit
Max was born on May 21, 1993 to Goofy and Clarabelle Cow. They lived in a small home in Northern Manhattan. Max's parents weren't together for too long. In February of 1996 when Max was only 2 1/2 years old, his parents divorced and Goofy took ownership of Max. In March 1996, Goofy and Max moved into the city in an apartment building. Max went to elementary school in New York City from Kindergarten through 4th grade. At the end of 4th grade in May of 2003, Max and Goofy decided to move somewhere less "cramped, noisy and more affordable". They moved to Spoonerville, a major city in the north western part of the Catskills in Upstate New York.
The Goofs and Pete's family (2003-2005)
Edit
When Goofy and Max moved to Spoonerville in the beginning of summer 2003, they so happened to move right next to Pete and his family which Goofy and Max had known for awhile in New York. Max restrengthened his relationship with PJ and became best friends as they were in early elementary school while Goofy tried to become better friends with Pete.
Ad blocker interference detected!
Wikia is a free-to-use site that makes money from advertising. We have a modified experience for viewers using ad blockers

Wikia is not accessible if you've made further modifications. Remove the custom ad blocker rule(s) and the page will load as expected.