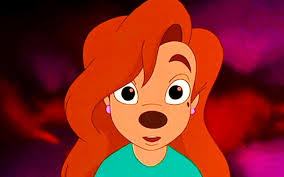 Roxanne
250x400px


Born

April 6, 1993

Age

25

Height

5'6"3/4

Spouse

Max Goof (m.2015)
Roxanne is Max Goof's girlfriend. She is currently a senior at New York State in Albany, NY, planning to get a bachelors degree in art and music.
Marriage
Edit
On March 28, 2015, Max and Roxanne got married at the University Baptist Church at 11AM. They now currently reside in an apartment complex about a mile from the University where they are looking into buying a new home.
High School
Edit
Roxanne attended Spoonerville High School in the fall 2007 as a freshman, She was of popular status at her school and was very smart with a 4.0 average at the end of the second nine weeks (January 2008). She mainly took Pre-AP classes her freshman year and then as she continued on she took AP classes for college credit. At the end of her freshman year, fellow freshman Max Goof did a stunt in the end-of-year assembly to impress Roxanne and she was flattered and fell for him. Later that day Max asked Roxanne if she wanted to go with him to Stacy's party later that week and she said yes. Even though Max didn't show up due to him attending the Powerline concert in LA and that he was lying only to impress her, she still forgave him and they went on their first date later in June. They first started their relationship on June 22, 2008 and they spent most of the summer either hanging out, going shopping, going to the movies or even hanging out with other friends together as well. By the time Sophomore year started in Early September 2008, news spread quickly through the school that her and Max were dating and they became the center of attention for the next couple of months and then they became less so the center of attention but still remained popular with many new friends. Roxanne graduated high school on June 7, 2011 at the University of New York at Spoonerville Basketball Arena in Uptown Spoonerville and was in the Top 10% of her class.
Roxanne attended the Art Institute of New York City in New York, NY in the fall of 2011. This made her and her current boyfriend Max's relationship hard to keep in touch since they were about 150 miles apart. They kept their relationship long distance and they would occasionally meet up for the weekend and also during holidays. Roxanne stayed at the Institute until the Summer of 2014 and then got transferred to New York State at Albany to finish her last year there and to be with Max for the last year. A couple weeks after moving in, Max proposed to Roxanne and she said "Yes!!" and they are both now engaged.