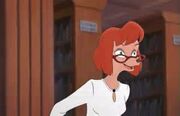 Sylvia Marpole

Born

December 12, 1962

Age

55

Height

5'4"

Spouse

Ronald (m.1987-2002) 1 child

Goofy (m.2014)

Children

Max (b.1993) -Stepson

Jasper (b.1992)
Sylvia Goofy neé Marpole is the wife to Goofy and a former Librarian at New York State University. Slyvia was born on December 12, 1962 in Reading, Pennsylvania and was raised there as well. Slyvia loved to read and learn about history as a kid growing up. In 1978, Slyvia graduated high school and went to college at New York State in Albany and soon became a Librarian at the same college in 2002. She had one spouse prior to Goofy named Ronald, whom she married in 1987 and had one son, Jasper, born in 1992. 
Relationship with Goofy
Edit
Sylvia first met Goofy in September 2011 when Goofy was helping his son study in the library. Goofy and Sylvia soon made a connection and started to find an interest in each other after Goofy made multiple visits to the library. Later that year in November, Goofy took Sylvia on a date at a local club and that started their relationship. Sylvia supported Goofy from there on to finish his last year of college and to help him on his studies. Sylvia also supported Max through his competitions in the X-Games. In June 2012, Goofy officially finished College and Sylvia and Goofy celebrated by going to the beach. After that, they had a serious relationship and soon Slyvia moved in with Goofy in October 2013, leaving her job as Librarian in Albany and transferring to Spoonerville Public Library in downtown. On February 14, 2014, Goofy proposed to Sylvia and became engaged and there wedding date was on October 12, 2014. As of August 2016, they both reside in Spoonerville, NY.